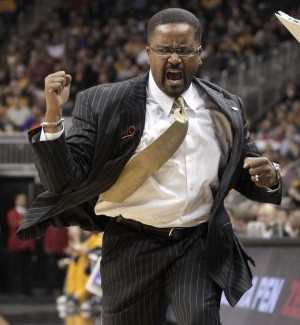 BIG 12
♦ It's not Baseball, but . . .
Frank Haith
was hired on April 4th to the sound of MU fans wailing and calling for Mike Alden's head. 11 months later, on March 4th, MU fans are wailing and crying foul that Haith was robbed of the Coach of the Year title. That difference illustrates the amazing job the man did this year.
♦
When Was the Last Time Texas Owned the Big 12 Cellar? (rivals.com)
With today's Texas loss and Missouri's win, it is what it is. I don't believe I have ever seen Texas at the very bottom of the conference.
GAME DAY
After a horrible weekend in San Francisco, the Tigers regained some confidence and renewed hope for a good season by taking 2 of 3 from Ball State.
♦
Missouri baseball beats Ball State to win first home series (Columbia Missourian)
Everett, a sophomore, has struggled at the plate since taking over for Andrew Thigpen, who graduated in 2011. After going 2-for-22 in Missouri's first eight games, Everett went 3-for-4 Sunday and hit his first two doubles of the year.
. . .
On the mound, junior transfer Blake Holovach was successful in his first start as a Tiger after four bad appearances out of the bullpen.
♦
Missouri cruises to series victory over Ball State (The Maneater)
The Tigers started with an unusual face on the pitcher's mound. Junior pitcher Blake Holovach recorded his first start for the Tigers, striking out a career-high eight Cardinal batters through five straight innings.
. . .
Sophomore second baseman Dillon Everett had a breakout game at the plate. Everett hit three line drives past the infield, drawing in two RBIs in the process. The performance came as a relief to Everett, who had been struggling on the stat sheet for the past couple of games.

"Obviously, I haven't been putting the stats on the paper like I've wanted to," Everett said. "I've been hitting the ball well, and today they found holes so it was a good feeling to get that off my back."
♦
Another poor start dooms Ball State (BSU Daily News)
Its bats stifled by Missouri's starting pitching for the second day in a row, Ball State was again unable to overcome an early deficit and lost 9-2 Sunday. Despite a victory Friday night, Ball State (2-6) was unable to leave Columbia, Mo., with a series win.
♦
Holovach pitches five solid innings for Mizzou, gets win over Ball State (KBIA Extra)
"On the way back from San Francisco (coach Tim Jamieson) said I hadn't been the same since I got put in the pen so he'd be starting me," Holovach said. "I had a chip on my shoulder. I wanted to prove that I could do better than what I had been doing."

The lefty pitcher worked one-third of an inning in California, giving up six hits and one run.

"It's a different mindset, you don't have as much time to warm up and you have to worry about runners," Holovach said. "It was the first time I'd ever come out of the pen was this year. It was a lonely experience for me, but (when I start) I'm more comfortable and more relaxed."
♦
Mizzou Baseball Links (RockMNation)
Few things probably eat away at a baseball team more than when they completely dominate a series overall -- Mizzou 26, Ball State 12 -- but don't get the sweep. As we will probably see plenty of times this year, the bats went quiet again on Friday night